Heavy duty, high-quality 4WD recovery solutions: From Jimnys to Unimogs (and everything in between)
At Saber Offroad, we are trusted specialists in high-quality 4WD recovery solutions and gear that's superior quality, value for money, user-friendly and, above all, safe. 
Known as one of Australia's leading 4×4 recovery brands, our mission is to deliver recovery solutions that are safer, smarter and stronger. It's gear to get you home – every time you venture off the bitumen.
We deliver a combination of 4×4 recovery products including strong and lightweight soft shackles, kinetic and winch ropes, and heavy-duty aluminium accessories that compliment each other to offer a full recovery solution.
The Saber Story: How it all began
Australia is famous around the world for its vast landscapes, harsh conditions, 4×4 culture and reputation for creating heavy-duty, high-quality recovery gear (because Australian 4WD enthusiasts put their vehicles and recovery gear to the test).
It was for this reason that in 2017, when Ben Bartlett was working with a number of international across South East Asia and the Middle East – he started getting requests for high-quality, soft recovery gear that had been real-world tested in Australia.
At the time, no Australian brand was working with modern recovery gear and Ben saw an opportunity in the market and Saber was born.
In 2020, Steve Handbury joined the wholly Australian-owned business as the Director – Product Development with a view to expand Saber Offroad domestically. Saber Offroad now has 70+ products, with 135 dealers Australia wide, with more to come.
Not just another 4x4 offroad recovery company
Our mission is to eliminate as much weight as possible from the recovery process, for example replacing metal with rope and soft shackles, and steel with aluminium, to reduce the risk to you and create products lighter and stronger – and ultimately safer.
There have been too many horror stories of bow shackles flying through the air after a failed recovery and injuring (or much worse) drivers, passengers and bystanders.
We stand behind the strength and safety of our products because we test all of our products to destruction in a NATA (National Association of Testing Authorities) lab. We also take our gear into recovery situations for thorough real-world testing.
You'll see batch numbers and contact details on all our products. It's your way of knowing we've tested each product beyond their capabilities and limits. More than that, our products meet all applicable standards and are always labelled accordingly. We want you to be as confident in our products as we are.
Our research and development team works hard to produce the world's best recovery gear. From the coating on our ropes to the aluminium we use in our accessories, the material we source has been researched and selected because it's the best quality product for the recovery solution.
Where it doesn't exist or we don't believe the highest quality possible, we'll research and develop our own product or material, like our SaberPro fibre. This proprietary fibre has allowed us to make products that are the toughest on the market.
And, because we're stronger and smarter together, we work closely with the team at the Australian Automotive Innovation Centre (AIC) and our NATA testing labs, which gives us access to first-rate testing machinery and engineering excellence to assist in the further development of our world-class products.
Our aim is to make sure our products are the strongest and longest lasting on the market. That's why we spend so much time researching, testing materials and developing our own specific range of products.
From the design of knots used on our soft shackles to the bend radius on our recovery rings, we are constantly improving our products to make them the best in the world.
We know our gear needs to perform in the harshest recovery situations and that's why we ensure our products work beyond their rated capacities to give you confidence and peace of mind.
At Saber Offroad, we give adventure and 4×4 enthusiasts the confidence to perform safer recoveries with thoroughly tested high-quality gear to get you home.
It's creating safer recoveries that drives us to better our products and range.
Saber Offroad snapshot and other points of difference
– Safety first, always
– 100% Australian owned
– A trusted voice for recovery products and information
– Recovery solutions to suit everything from a Jimny to a Unimog (and beyond)
– Ability to make Australian-made, custom recovery solutions for organisations and individuals
– The only Australian 4×4 recovery brand that's a member of The Cordage Institute, and one of only two recovery brands worldwide
– Committee member of Australian 4WD Industry Council
The Saber Offroad product development process
We are committed to sourcing the highest quality materials from around the world, including Australia, the US and Asia, while also supporting the Australian manufacturing of our products wherever possible. We are the only brand that finishes their products with Cerakote ceramic coating on recovery gear in Australia. As an Australian-owned business, Saber Offroad is known for creating and developing high-quality recovery solutions for unique situations.
Saber Offroad: Gear to get you home
As the Saber Offroad brand continues to evolve, so too does our range of 4×4 recovery gear and accessories. Expansion of our products around the world is very important to us at Saber Offroad because it means more people performing safer recoveries. We will keep pushing the boundaries when it comes to new-generation technology, the high standards within the Saber Offroad product suite, and in the 4WD recovery industry itself. Our customers want to explore offroad, and we want them to have the gear to get them home safely, so they can do it all again next time.
Check out the Saber Offroad recovery gear here
or
get in touch
for a custom recovery solution for your unique circumstances, your business or organisation.
The Saber Offroad Timeline
2017
MercuryPM (Saber Offroad's parent company) owner Ben Bartlett is asked to source high-quality Australian-made vehicle-to-vehicle recovery products for use in the Middle East. Nothing is available in Australia consisting of the products required, so Ben begins development of the initial Saber Offroad range. Read more about Ben here
2018
Ben starts manufacturing and exporting Saber Offroad products worldwide, with a predominant initial focus in the Middle East
Late 2018
Saber Offroad products are sold online in Australia at www.saberoffroad.com and Steve becomes a Saber Offroad customer. Saber Offroad launch the first ever Australian developed Bound Soft Shackle.
Early 2019
Saber Offroad focuses heavily on export to the Middle East and South East Asia
November 2019
Saber launches the first ever Australian developed recovery ring, the Ezy-Glide Recovery Ring.
Late 2019
Ben and Steve talk about Steve joining Saber Offroad
January 2020
Stephen joins Saber and takes on the role as Director – Product Development and Saber Offroad starts selling domestically through a small number of dealers. Read more about Stephen here
March 2020
COVID hits and Ben and Steve restructure Saber Offroad to become a domestically focused business
May 2020
The Saber team move into their first factory in Bayswater, Victoria, and the Soft Anchor Point (SAP) launches
July 2020
Australia's strongest rear recovery hitch launches (Rope Friendly Rear Recovery Steel Hitch) and the new Ezy-Glide Recovery Ring V2 design goes live. Saber Offroad is still the only Australian company to produce a recovery ring with the correct diameter as a minimum bend radius for working rope. Meanwhile, SaberPro takes over as the main material used in soft shackle construction and winch ropes
August 2020
Soft Shackle Recovery Points patent is published
January 2021
Spliced Winch Thimble (SWT) and "Fat Lip" Offset fairlead are released and Saber announces the switch to Cerakote and Prismatic Powder Coating for alloy range.
March 2021
The Aluminium Rear Hitch is released
June 2021
MercuryPM moves to a new HQ in Croydon South, 4 times the size of the last factory.
December 2021
Saber Offroad grows to 110 dealers in Australia and 70+ products, with the team expanding to develop new products.
2022
Stay tuned for more product releases, including our new winch and air compressor.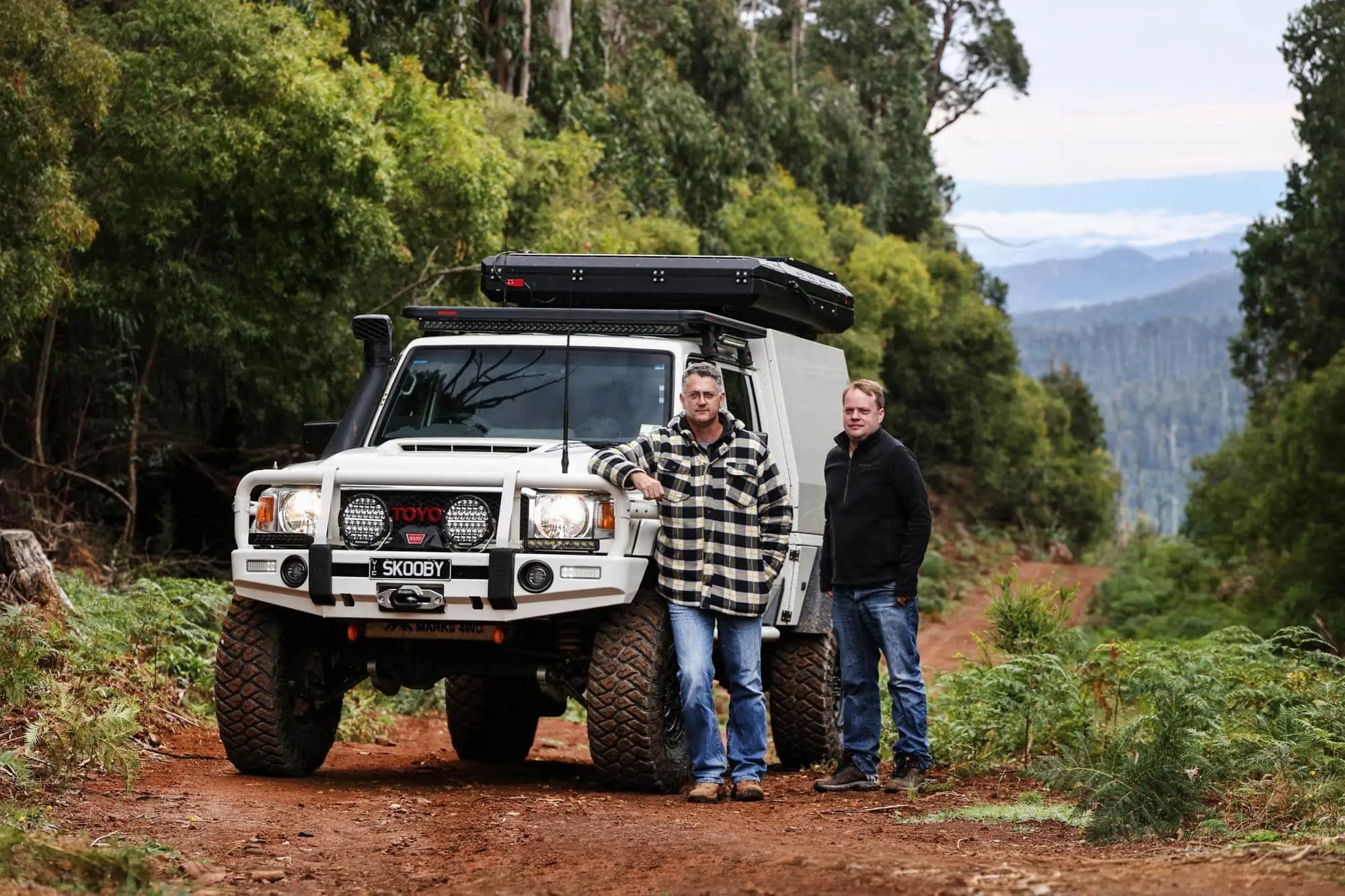 Ben Bartlett's 4×4 journey tells a different story to most, while he learned how to drive a stick in a 60 series Landcruiser, and loved getting offroad with his Dad, his 4×4 enthusiasm also showcases a different angle.
Ben was involved in the original set up of the Australian 4WD Industry Council and has sat on numerous Australian standards committees over the years, helping to shape the 4×4 industry in Australia.
His deep product knowledge of 4×4 accessories comes from a lifetime career in the parts and accessories industry working with highly reputable and well-known 4WD brands.
In his first job developing accessories for Jeep, Chrysler and Mercedes, Ben forged strong relationships with Australian brands to develop accessories and product lines, including tow bars, bullbars and so on, for those particular vehicles. Much of his work was four-wheel-drive focused.

The Australian Automotive Aftermarket Association (AAAA) was his next career move, which meant he started dealing with brands, from retailers such as Repco and Burson Auto Parts, though to large manufacturers including ARB, TJM, East Coast Bullbars (ECB) and Pedders. In the 10 years Ben worked with the association, he took key Australian 4WD brands to trade shows all over the world – from Germany to the US and across Asia and even Russia.
It was his knowledge, experience and key relationships that helped form MercuryPM, which predominantly sells and distributes Australian 4WD products around the world.
During this time, Ben discovered there wasn't an Australian brand creating high-quality recovery gear – and so Saber Offroad was born.
Ben's unique background and approach to product development was the cornerstone of Saber Offroad's ethos of safety first. From the very beginning, he was adamant that all Saber Offroad products had to be safe, compliant and NATA tested – and today, it's still the same.
As Saber Offroad Founder and Director, Ben manages the day-to-day running of the business, exporting and international partnerships.
And he still enjoys getting offroad, now in his Y62 Patrol, just to challenge Steve in the long-standing battle of Nissan Vs Toyota.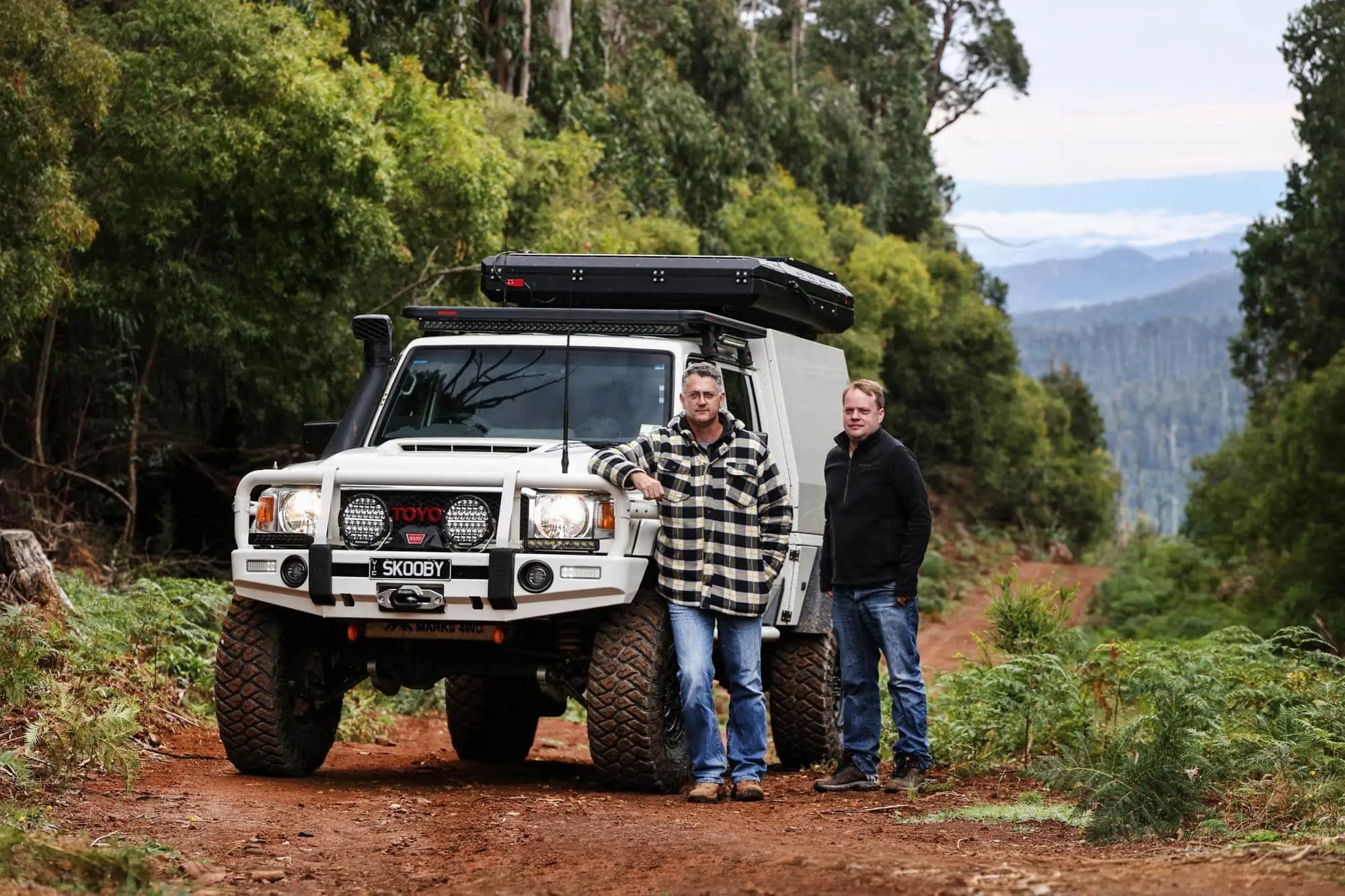 Saber Offroad Director - Product Development
Fun fact: Before he bought into Saber Offroad as a partner and Director – Product Development, Steve Handbury was a grazier and owner of one of Victoria's most renowned Angus studs.
Better known now as @79Skooby by his 40,000+ Instagram followers, four wheeling ran though Steve's veins well before he was born.
In fact, you could say he was born on a 4×4 track (he came pretty close to it, but that's a story for another time!).
He's been living and breathing four wheeling ever since.
Growing up in a Landcruiser family, Steve's dad drove a Toyota BJ40 and "we lived in that car we went everywhere in it. I actually went with Dad to the dealership when he bought it." Naturally, his first car was a Toyota FJ45 Landcruiser.
"My Dad's idea of recovery gear was an axe and high-lift jack. There was no winch on the 40 series. I remember being a kid and watching two 40 series Landcruisers recover a panel van from a creek – there I was right in the danger zone on the side of the creek watching this recovery." It was a different time back then.
Born and bred in Darwin, NT, one of his favourite camping spots was Florence Falls in Litchfield National Park, which back then was a serious adventure and took a full day of four wheel driving to get there, and according to Steve, where you'd normally get bogged on the black soil plains.

His thirst for four wheel driving has seen him explore the country's most talked about tracks, places and rich cultural heritage. But it was during a gap year that the former "retiree" saw an investment opportunity in Saber Offroad.
As Director – Product Development, Steve's job is to design and create new products, review and improve the current products, and test everything to destruction.
At Saber Offroad, we create all of our products with a view to reduce the metal and weight in a recovery. Our products are our own and have been created by our specialist team.
The combination of Ben's product and testing expertise together with Steve's farming and 4×4 experience makes for a powerful duo and a robust product offering and brand in Saber Offroad.